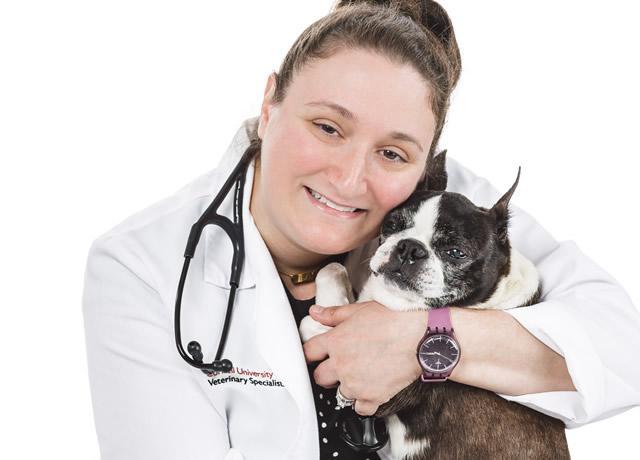 Lisa Fink
Lisa Fink, DVM, DAVDC
Staff Dentist & Oral Surgeon, Cornell University Veterinary Specialists
Adjunct Assistant Clinical Professor of Dentistry and Oral Surgery, Cornell University College of Veterinary Medicine
Specialty Certification
American Veterinary Dental College
Dr. Fink graduated with honors from the University of Illinois's College of Veterinary Medicine and then completed an internship at the Animal Medical Center in NYC. After 2 years in general practice, she completed a 3-year comprehensive residency in Dentistry and Oral Surgery at the University of Pennsylvania. Dr. Fink joined CUVS in 2015. She is board-certified by the American Veterinary Dental College - and is the first board-certified small animal dentist in the state of Connecticut.
Dr. Fink is skilled in and enjoys all aspects of veterinary dentistry and oral surgery, with special interest in surgery for pets with oral cancer, and in performing root canal therapy to save functional teeth. Together with her expertise, she is also incredibly warm, thorough and approachable. She is extremely enthusiastic about her field and loves to teach veterinarians and pet owners about dentistry, dental care and the positive effects on quality of life. These attributes have gained her a loyal following; our Dentistry Service sees cases from regions well beyond the tristate area.
Dr. Fink is available by phone and email to consult with your primary care veterinarian, and collaborates with other specialists as needed to determine the best course of therapy for your pet's needs.
Subspecialty Emphasis
Endodontic and prosthodontic therapy (root canal therapy, crowns/restorations)
Oncologic surgery (oral biopsies, surgical jaw resections)
Maxillofacial trauma repair

Specialty Services