During what is an unprecedented and rapidly changing time for all, we at CUVS are making every effort to continue to be a reliable source of medical care for your patients and clients, as long as we are able to do so. Our top priority is to try to do this while keeping our staff members (and your clients) healthy. It is important that as a community we remain focused on prevention and communication. Below are some links with valuable information and resources.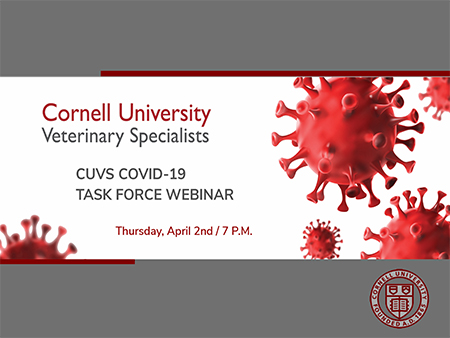 CUVS COVID-19 Webinar Slides
Click the photo graphic for the slide deck and link from our April 2nd webinar.
 

| ORGANIZATION | INFORMATION |
| --- | --- |
| State of Connecticut | Updates and resources throughout the state |
| State of New York | Updates and resources throughout the state |
| CDC | FAQ: Animals and COVID-19 |
| AVMA | Resources for veterinarians, clinics and pet owners. |
| CVMA | The CVMA has developed several resources that might be of assistance. |
| NYSVMS | Member resources |
| US Small Business Administration portal | |
| US Chamber of Commerce | Comprehensive overview of programs available under CARES Act and related legislation |
| MRA | FFCRA Emergency Paid Leave Tracking Worksheet |
| CT Dept of Labor | Frequently asked questions by both employers regarding their obligations and assistance for employees who are facing prospect of reduced or no work). |
| Department of Labor | Families First Coronavirus Response Act: Questions and Answers |
| NY Times | Questions on the Stimulus checks |
| JacksonLewis | On the Families First Coronavirus Response Act (H.R. 6201): |
| Think HR | General HR resources |
| NAMI | Mental health support |
| EPA | Disinfectants for use against SARS-CoV-2 |
|   |   |