Nutrition
The right diet is an essential component of your pet's health. As part of our mission to provide access to the extensive resources of a world leader in veterinary medical care, CUVS offers nutrition services by faculty from Cornell University's College of Veterinary Medicine. Nutritionists consult on both inpatients and outpatients, and offer remote dietary consultations to our clients.
The Services We Offer
Cornell nutritionists offer extensive expertise to help your pet live as healthfully as possible, including:
Nutritional support for disease. We provide consultation in diet and feeding practices for dogs and cats with specific diseases in which nutritional intervention plays a role in disease management. These include:
Gastrointestinal disease

Food hypersensitivities

Kidney disease (kidney failure, protein-losing nephropathy)

Urolithiases (kidney or bladder stones)

Neoplasia (cancer)

Diabetes

Osteoarthritis

Dental health
Formulation of balanced home-prepared diets.  Home-prepared diets can be formulated using food from your kitchen and individualized to manage diseases and/or help your pet maintain a healthy weight.
Life stage feeding. We provide counseling in dietary selection and feeding practices for cats and dogs during specific life stages including growth, gestation and lactation, as well as for large-breed or geriatric pets.
Weight management. We can help structure an appropriate weight management program for your pet through diet. We also can integrate an exercise program in collaboration with our Sports Medicine & Rehabilitation Service.
Specialty nutrition services. Parenteral nutrition or enteral tube-feeding diets can be formulated for our referring veterinarians.
Our Specialist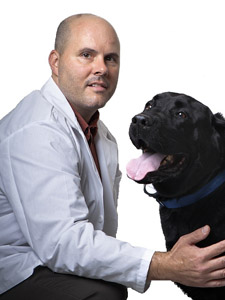 The Nutrition Department of Cornell University's College of Veterinary Medicine is led by Joseph Wakshlag, MS, DVM, PhD, DACVN, DACVSMR, who is board-certified in veterinary Nutrition as well as in Sports Medicine and Rehabilitation.
To make a referral or schedule a consultation with a nutritionist, please call 203.595.2777.