Resources
Pet Owner Education
CUVS Pet Owner Education Series
We offer educational sessions to pet owners to discuss current topics that would be helpful to pet owners and even animal lovers.
CPR Training for Pet Owners
What would you do if your pet collapses? Or stops breathing? Are you prepared?
Cornell University's College of Veterinary Medicine offers a 1-hour online CPR course for pet owners and pet care professionals (such as pet sitters, dog walkers, dog care providers and groomers). A certificate of completion will be issued by the American College of Veterinary Emergency and Critical Care (ACVECC).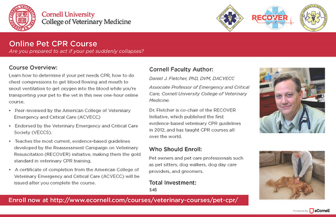 Understanding Medical Conditions and Diagnoses
Helpful information for pet owners.
CUVS Articles and Brochures
Dermatology
Internal Medicine
Ophthalmology
Orthopedic Surgery
Pet Safety
Cornell Feline Health Center: Articles & Brochures
The Cornell Feline Health Center is the resource for feline health, providing a host of excellent resources regarding feline health and wellness.
Aging [click to open/expand]
Anemia
Anesthesia
Cancer
Diabetes
Ear Issues
Euthanasia
Eye Problems
Feline Immunodeficiency Virus (FIV)
Feline Infectious Peritonitis (FIP)
Feline Leukemia Virus (FeLV)
Fleas & Ticks
Fungal Infections
Gastrointestinal Issues
Hairballs
Health Hazards
Heart Problems
Heartworm
Hypertension
Hyperthyroidism
Kidney Issues
Liver
Nasal Problems
Neurological Issues
Nutrition and Weight Control
Oral/Dental
Orthopedic
Pancreatitis
Pneumonia
Poisons
Rabies
Respiratory Issues
Ringworm
Skin Problems
Spay/Neuter
Staph Infection
Toxoplasmosis
Urinary Issues
Vestibular Problems
Zoonosis
Cornell University Baker Institute for Animal Health
Cornell University's Baker Institute for Animal Health is a veterinary research center with a long history of transformative discoveries, including breakthroughs in infectious disease and vaccines, reproduction and genetics. The Institute fosters excellence and address real-world problems by focusing attention on a strategic selection of cutting-edge fields of research. The Institute also seeks to be a leader in training scientists and veterinarian scientists in state-of-the-art methods in animal health research. By applying innovative and collaborative approaches in research and training, the Baker Institute's mission is to improve the lives of animals and humans alike.
General Pet Wellness and Care
Cornell Feline Health Center
Listed below is a select compilation of feline behavioral topics provided by our feline experts.
Poison Control
Poison Control Helplines
If your pet ingests a poison, please immediately contact one of the below helplines to provide you with information and recommendations. The sooner a toxicity is addressed, the more effective the treatment, and the better the chances for survival.
ASPCA - 888.426.4435 24 hours a day, 365 days a year. A fee may be charged. If your pet has a microchip, however, the charge is waived.
Pet Poison Helpline - 855.764.7661. A fee will be charged.
Other Cornell University Resources
Cornell's College of Veterinary Medicine
The College of Veterinary Medicine at Cornell University is recognized internationally as a leader in public health, biomedical research, animal medicine, and veterinary medical education. Ranked consistently as one of the best veterinary colleges in the nation, the College is recognized for the strategic breadth of focus areas and depth of expertise in each of those areas; the achievements of faculty, staff, alumni, and students; and commitment to diversity and inclusiveness.
Cornell University Hospital for Animals
Located in Ithaca, NY on Cornell's main campus, the Cornell University Hospital for Animals includes the Companion Animal Hospital, the Equine Hospital, the Nemo Farm Animal Hospital, the Wildlife Health Center, and the Ambulatory Clinic. Together, they provide leadership in patient care, education, clinical investigation, and scientific innovation.
Animal Health Diagnostic Center (AHDC)
Cornell's AHDC is one of the largest and well-regarded veterinary clinical pathology laboratories in the world. The AHDC conducts approximately one million tests on more than 150,000 individual samples each year, from across the United States and Canada. The lab works closely with New York State to ensure the early detection and control of pathogens that can significantly affect the health of animals and humans.
Cornell Feline Health Center
The Cornell Feline Health Center is the only such Center in the world. It provides myriad resources to feline veterinarians and cat owners.
The Cornell Feline Health Center operates the Camuti Consultation Service, an over-the-phone consultation line, available to both practicing veterinarians and pet owners at 800.548.8937. Please note, there may be a charge for consulting with them.
Cornell University Baker Institute for Animal Health
Baker Institute for Animal Health builds on more than a half century of discoveries and innovation in vaccines and infectious disease, cancer research, reproductive biology, and basic biology. Their faculty and research staff study pathogens and genetic disorders of dogs, cats, and other animals, and the underlying causes of cancer in animals and humans, often leading the science in new and innovative directions.
Pet Loss & Bereavement
Online Support: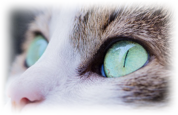 The Association for Pet Loss and Bereavement: aplb.org, chatrooms: M,T,W, F: 8-10 pm, Th 7-9 pm, Sun 2-4 pm
The Argus Institute at Colorado State University: http://csu-cvmbs.colostate.edu/vth/Pages/default.aspx
Veterinary Wisdom: veterinarywisdom.com
Final Gift Grief Support: finalgift.com
Phone Support:
Pet Loss Support Hotline at Cornell - 607.253.3932
6:00 p.m. - 9:00 p.m. (EST), Mondays, Tuesdays, Wednesdays, Thursdays and Saturdays
Book Support:
The Loss of a Pet, by Wallace Sife
Companion Animal Death, by Mary F. Stewart
Coping With Sorrow, by Moira Anderson
Coping With The Loss of a Pet, by Christina M. Lemiux
Pet-Friendly Hotels in the Area
Stamford, CT
Sheraton Stamford Hotel, 700 East Main Street – 203.358.8400
Stamford Marriott Hotel and Spa, 243 Tresser Boulevard – 203.357.9555
Hilton Stamford Hotel and Executive Meeting Center, One First Stamford Place – 203.967.2222
Amsterdam Hotel, 19 Clarks Hill Avenue – 203.327.4300
Super 8 Stamford, 32 Grenhart Road – 203.324.8887
LaQuinta Inn & Suites Stamford, 135 Harvard Avenue – 203.357.7100
Old Greenwich, CT
Hyatt Regency Greenwich-Stamford, 1800 East Putnam Avenue – 203.637.1234
Norwalk, CT
EVEN Hotels Norwalk, 426 Main Avenue, Route 7 – 203.846.9355
Extended Stay America, 400 Main Avenue – 203.847.6888
The Guest House at Norwalk Inn, 93 East Avenue – 203.852.2375
Econo Lodge Norwalk, 469 Westport Avenue – 203.847.5827
Rye Brook, NY