Student Externships
Veterinary Students 
CUVS provides externship experiences to veterinary students from Cornell, as well as from other veterinary schools in the US and abroad. The goal of this program (and indeed an important mission of CUVS) is to provide students a rich and meaningful experience in a busy metropolitan specialty and emergency hospital - to build on their clinical experience and to also provide a practice perspective that cannot be gained in an academic setting.
During a rotation at CUVS, students are embedded in the service, working alongside experienced specialists and staff, and participating in case workup from presentation to discharge. Emphasis is placed on honing examination skills and formulating problem-oriented diagnostic and treatment plans. The student also participates in case discussion rounds. We limit the rotations to one student per service, such that the individual gains from focused and personalized training. Students also benefit from inclusion into our regular schedule of journal club, morbidity-mortality rounds and didactic lectures. While students do not have case management, hands-on or communication responsibilities, the experience is rich with learning opportunities.
A valuable part of the experience at CUVS is to gain insight into other aspects of the delivery of medical care in a private practice setting. This includes: our focus on client service throughout the hospital, client education in medical decision-making, clinical efficiencies and flow, referring veterinarian relationships, inter-department collaboration, effective communication, a culture of learning, and the use of technology.
Clinical education is one of our essential missions. All at CUVS enjoy teaching, are excited to work with students, and encourage students to take advantage of this individualized and practical learning experience.
To apply for an externship, please complete the application form and send to academic@cuvs.org. Please direct any questions to academic@cuvs.org.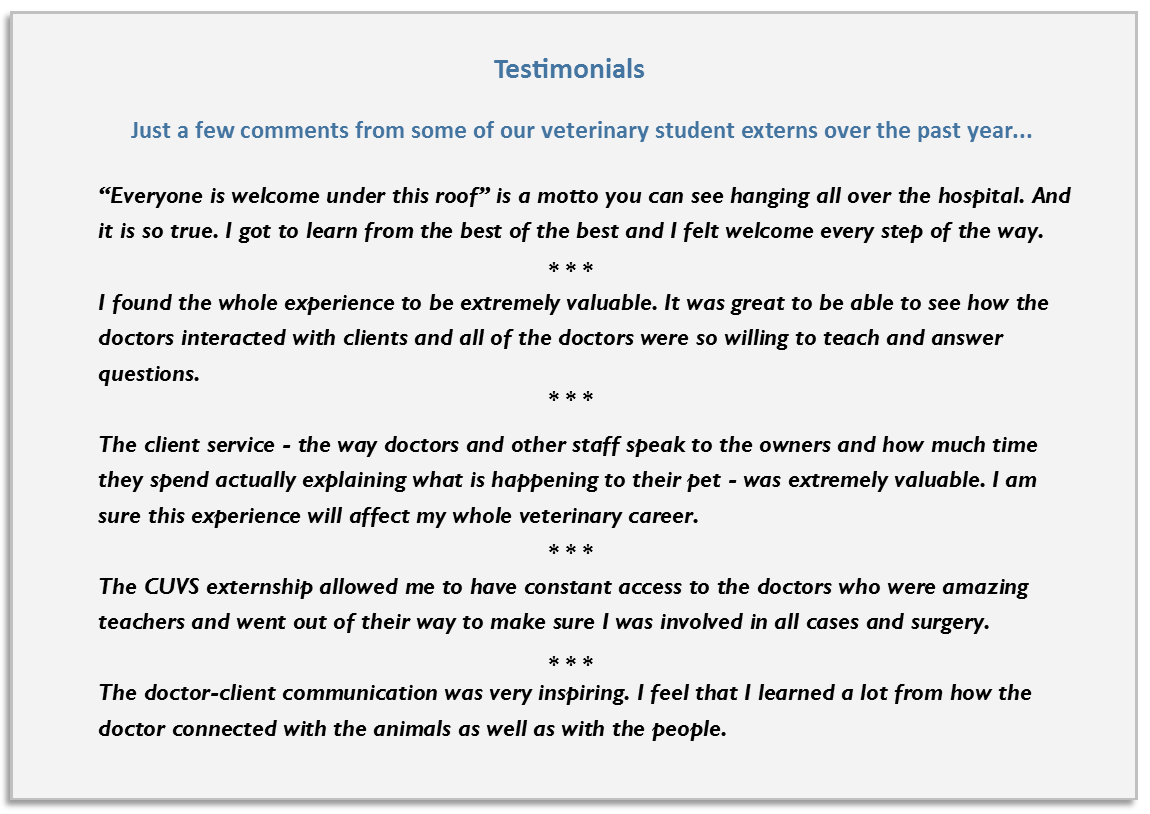 Veterinary Technician Students
We are dedicated to enhancing the training of Veterinary Technicians in our community. CUVS partners with many Veterinary Technology colleges to provide clinical externships, lectures and lab training for their technician programs. If you are in a Veterinary Technology program, and are interested in an externship at CUVS, please arrange this through your program.
Volunteers
We receive many inquiries regarding volunteer opportunities. Unfortunately, we cannot accommodate volunteers at this time. We encourage anyone who is interested in volunteer work with animals to contact their local shelter. These shelters are always in need of assistance from animal lovers.