Blog
Marijuana: The Re-emergence of an Old Foe
Anthony Gonzalez, DVM, DACVECC
The first week of November is National Animal Shelter Appreciation Week.  There are so many ways you can help:  adopt, rescue, foster, transport, sponsor, volunteer, donate.  Even the smallest contribution can make the biggest difference in the life of a shelter animal.  Please think about contributing to your local shelter!
Meet Biskkit. He came to CUVS recently to see the Ophthalmology Service for suture removal. He had originally developed elevated eye pressure (glaucoma), bleeding, and blindness in his left eye, prompting our ophthalmologist, Dr. Rachel Wynne, to recommend eye removal surgery. Although Biskkit was less energetic at home, it was difficult for his owners to tell whether he was truly in pain. Dr. Wynne explained that elevated eye pressure can cause a headache-like sensation, so patients with glaucoma may not show obvious signs of eye pain such as squinting or rubbing. Since eye removal surgery, Biskkit's owner tells us he is a whole new dog!
Our Vets, Techs and Their Pets!
Roza's Story
Roza's Story is best told by her mom, Maria, who is a Veterinary Technician in Cornell University Veterinary Specialists' Emergency and Critical Care service. As roza.rozalita on Instagram, Roza and Maria tell their amazing story from the mountains of Puerto Rico to a loving forever home in Connecticut.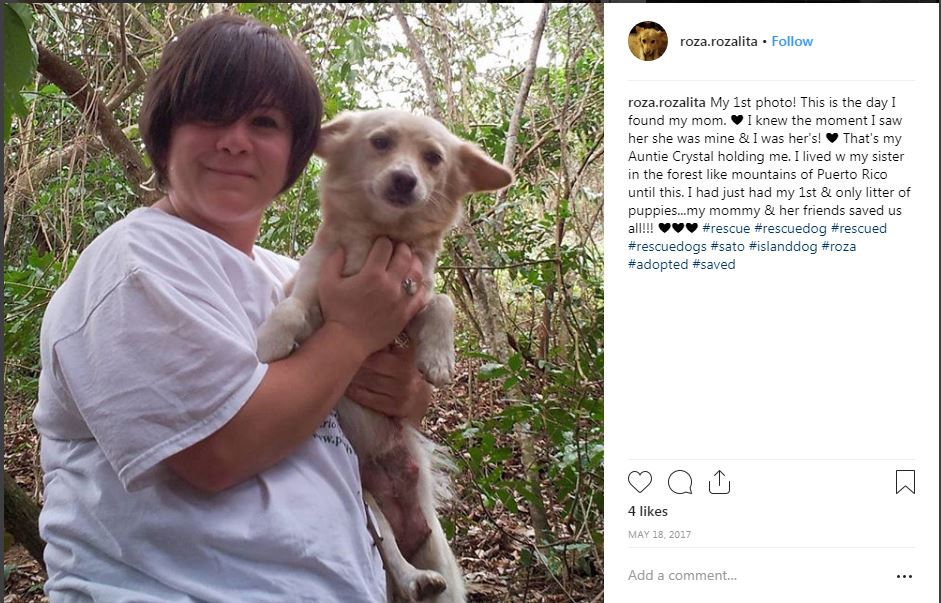 Our Vets, Techs & Their Pets:
Sherman - Service Dog in Training
By Laura, CUVS Veterinary Technician, ECC
I became a volunteer 'puppy raiser' for the first time in 2009 and have been in love with the role ever since. As a puppy raiser, I take a future service dog into my home and teach them basic skills, house manners and socialize him/her to everything the world has to offer for the first year and a half of life. My two pet dogs, Manning and Rasha, are dogs I raised as puppies who were released from training and now enjoy life as pets. They serve as great mentors for the puppies I currently work with. The newest member of my lab pack is 15-week old, Sherman, who comes from BluePath Service Dogs. 
On Saturday, April 21st, an assortment of cats and dogs, large and small, along with their human families (and even some fur siblings!) gathered together for an emotional reunion and celebration to honor these amazing pets who, against all odds, have come back to health thanks to the doctors and staff here at CUVS.
Our Vets, Techs & Their Pets:
Lex - My Death Row Survivor
By Emily, CUVS Veterinary Technician Assistant (Surgery)
This is Lex, my death row dog survivor. About a month after losing my beloved Pitbull before him, I was scrolling through Facebook and, through Urgent Death Row Dogs of the ACC Shelters in NYC, I found him.
Our Vets, Techs & Their Pets:
This is Brodie. He's a year-old lab mix and he's a very lucky dog! Last year he was rescued from a high kill shelter in Arkansas. At the time, he was just a puppy and was anemic and extremely underweight. CUVS Veterinary Technician Assistant (surgery), Shannon, adopted Brodie through Pack Leaders Rescue of Connecticut in August. "It's been a journey since we got him, getting him back to health, but he's a happy boy…. he plays hard and sleeps hard every day." This photo says it all!
Our Vets, Tech and their Pets!
Remembering Cleo by Karen, CUVS Veterinary Technician Assistant, ECC
"Cleo came into my life almost 16 years ago. At the time, I was looking to adopt another cat and had always wanted an orange tabby. I was excited when I found out that my local cat rescue group had a litter of orange tabby kittens for adoption. After applying and getting accepted as a prospective adopter, I headed over to the foster home to select my kitten.