Surgery
As part of the CUVS mission to deliver extraordinary care, we have an outstanding surgical team that works collaboratively across all specialty departments, and with you and your primary care veterinarian, to determine the most effective and least invasive approach for each pet. The expertise of our surgeons, together with state-of-the art surgical and monitoring equipment, enables all surgical techniques including advanced minimally invasive procedures.
Our board-certified surgeons, Drs. Oliver Morgan and Adrienne Bentley, are extraordinary in their skills, dedication and communication. The Surgery Department also includes a team of veterinary technicians, assistants, and a liaison to ensure that you are supported through the entire process from the initial consultation until your pet's final post-operative recheck.
Our goal during the initial surgical consultation is to help owners make an educated decision on whether or not surgery is in their pet's best interest and on which procedure is best for their pet. It is important to us that owners fully understand the potential risks and benefits of each option, and to support them in this process.
The surgery department integrates the expertise of the Internal Medicine, Critical Care, Oncology, Sports Medicine-Rehabilitation and Dentistry-Oral Surgery departments, whenever necessary, for the care of our surgical patients. This seamless, collaborative team approach is one the many features that distinguishes patient care at CUVS.

The Services We Offer
The CUVS Surgery Department offers the very best in advanced surgery, including:
Minimally Invasive Surgery
These procedures are performed through very small incisions, using a thin, flexible scope; fiberoptic cables enable the surgeon to closely inspect the internal organs. Using sophisticated instrumentation, the surgeon is able to biopsy diseased organs or masses, or sometimes remove them. In that incisions are small, these procedures generally result in less discomfort and a quicker recovery compared with conventional surgery. In human medicine, minimally invasive techniques are considered the standard of care for many conditions. Some of the minimally invasive techniques we perform at CUVS include:
Arthroscopy

is used to better visualize the joints, and enable diagnosis and treatment of orthopedic conditions affecting the shoulder, elbow, carpus, hip, stifle or tarsus joints.

Thoracoscopy involves the internal examination, biopsy and or removal of disease within the chest cavity – the

lungs, mediastinum (area between the lungs), pericardium (covering the heart) and pleura (covering the lungs and lining the chest cavity).

Laparoscopy is used to view internal organs and enable biopsy or treatment of certain abdominal conditions. Common examples include: liver biopsy, mass biopsy, and the removal of bladder stones. We can also perform minimally invasive spays and gastropexy (attachment of the stomach to the body wall to prevent torsion in large breed dogs).

Interventional radiology and interventional endoscopy

are imaging- and/or endoscopy-guided procedures used to diagnose and treat many conditions.
Orthopedic Surgery
Our surgeons treat acquired and congenital injuries and diseases of bones and joints utilizing the most advanced and sophisticated devices and techniques. Some of the orthopedic surgeries we perform include: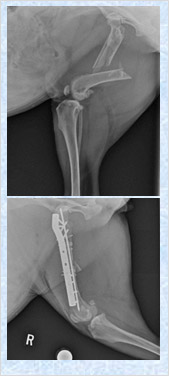 Cruciate ligament repair: Tibial plateau leveling osteotomy (TPLO) and tibial tuberosity advancement (TTA), as well as extracapsular techniques for selected cases

Fracture repair: Bone plating/screws, external fixators, circular fixators, IM pins/orthopedic wire and external coaptation techniques

Congenital and developmental orthopedic conditions (elbow dysplasia, osteochodrosis (OCD), angular limb deformities, and other musculoskeletal conditions)

Patellar luxation

Hip dysplasia management modalities

Corrective osteotomies, limb lengthening and internal/external fixation techniques

Arthroscopic surgery

Musculotendinous injury repair (strains, sprains or trauma to soft tissue)

Osteoarthritis management
We work closely with our Sports Medicine & Rehabilitation Service to optimize surgical recovery following orthopedic surgery, and to prevent, diagnose and treat musculoskeletal injuries. Our goal is always to speed the healing process and enable peak performance regardless of whether a working dog, canine athlete, or pet.
Soft Tissue Surgery
Soft tissue surgery includes:
Oncologic and reconstructive

Gastrointestinal and abdominal

Thoracic and cardiac

Upper respiratory

Endocrine

Wound management
Our surgeons work seamlessly with specialists in internal medicine, oncology, and critical care, providing broad expertise to ensure the best possible outcomes for each pet.
Ancillary Services
Anesthesia and pain management
Our Specialists
The CUVS Surgery Department is staffed by specialists, board-certified by the American College of Veterinary Surgeons.
To make a referral, or to schedule a consultation with one of our surgeons, please call 203.595.2777