Career Opportunities
CUVS is a rapidly growing specialty and emergency center with a mission to provide exceptional and innovative medicine within a patient-centered and service-oriented model. Established in 2011, we are a for-profit, wholly-owned subsidiary of Cornell University. As such, our hospital combines the best aspects of academic practice with the best aspects of private practice to create a truly unique hospital model.
It's our people that make us special! Our commitment to innovative and advanced medicine, to learning, and to the highest level of client service has allowed us to attract a team of veterinary professionals with the same passions and values. Together, we pursue excellence and we celebrate diversity in all of its forms. Together, we have created a unique culture that sets us apart from other hospitals you may know or be considering.
Lots of veterinary hospitals offer jobs. We offer careers

.
Learn more about our incredible hospital, read some of our amazing employee success stories, and take a virtual tour.
Located in Harbor Point, Stamford, on Connecticut's "Gold Coast", the area offers beauty, a rich cultural experience, and myriad water and other outdoor activities.  We are 45 minutes from Manhattan and minutes from commuter trains and the Interstate, offering easy access to other parts of New England and the Northeast.
Become part of the team that is Transforming Care, One Life at a Time.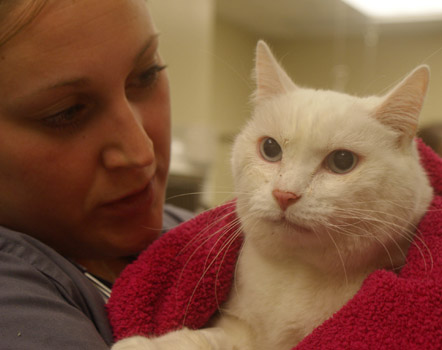 Available Positions
Available positions are listed below. Please click on a position for a complete description.
For more information on our hiring process, please see CUVS Hiring.
Licensed Veterinary Technician
Veterinary Technician Specialist (VTS) Mentoring Program Director
Veterinary Technician Specialist (VTS) Candidates
Client Services Telephone Operator
No openings at this time.
No openings at this time.